It's that time of the year again as Europe's largest and most prestigious information security conference "Infosecurity Europe" gets ready to kick off next week at Earls Court, London, UK.

This year's 18th annual security gathering features over 350 exhibitors, but you won't find IOActive on the floor of the conference center. Oh no, we're pulling out all the stops and have picked a quieter and more exclusive location to conduct our business just around the corner. After all, why would you want to discuss confidential security issues on a floor with 12,500 other folks?

We all know what these conferences are like. We psych ourselves up for a couple of days for shuffling from one booth to the next, avoiding eye contact with the glammed-up booth-babes working their magic on blah-blah's vendor booth – who's only mission in life is to scan your badge so that a far-off marketing team can spam you for the next 6 months with updates about a product you had no interest in – who you unfortunately allowed to scan your badge because they were giving away an interesting  foam boomerang (that probably cost 20 pence) which you thought one of your kids might like as recompense for the guilt you're feeling at having to be away from home one evening so you could see all of what the conference had to offer.

Well fret no more, IOActive have come to save the day!

After you've grown tired and wary of the endless shuffling, avoided eye-contact for as long as possible, grabbed enough swag to keep the neighbors grandchildren happy for a decade's worth of birthdays, and the imminent prospect of standing in queues for over priced tasteless coffee and tea has made your eyes roll further in to the back of your skull one last time, come visit IOActive down the street at the pub we've taken over! Yes, that's right, IOActive crew have taken hostage a pub and we're inviting you and a select bunch of our VIP's to come join us in a more relaxed and conducive business environment.

I hear tell that the "Security on Tap" will include a range of fine ales, food and other refreshments, and that the decibel level should be a good 50dB lower than Earls Court Conference Center. A little birdy also mentioned that there may be a whisky tasting going on at some point too. Oh, and there'll be a bunch of us IOActive folks there too. Chris Valasek and I, along with some of our top UK-based consultants will be there talk about the latest security threats and evil hackers. I think there'll be some sales folks there too – but don't worry, we'll make sure that their badge readers don't work.

If you'd like to join us for drinks, refreshments and intelligent conversation in a venue that's comfortable and won't have you going hoarse (apparently "horse" is bad these days) – you're cordially invited to join us at the Courtfield Pub (187 Earls Court Road, Earls Court, London, SW5 9AN). We'll be there Tuesday and Wednesday (April 23rd & 24th) between 10:00 and 17:00.

To prevent the prospect of having to queue to get in, I'd ask you to quickly RSVP on the page we've crafted specifically for the Infosec event. Go on, RSVP HERE!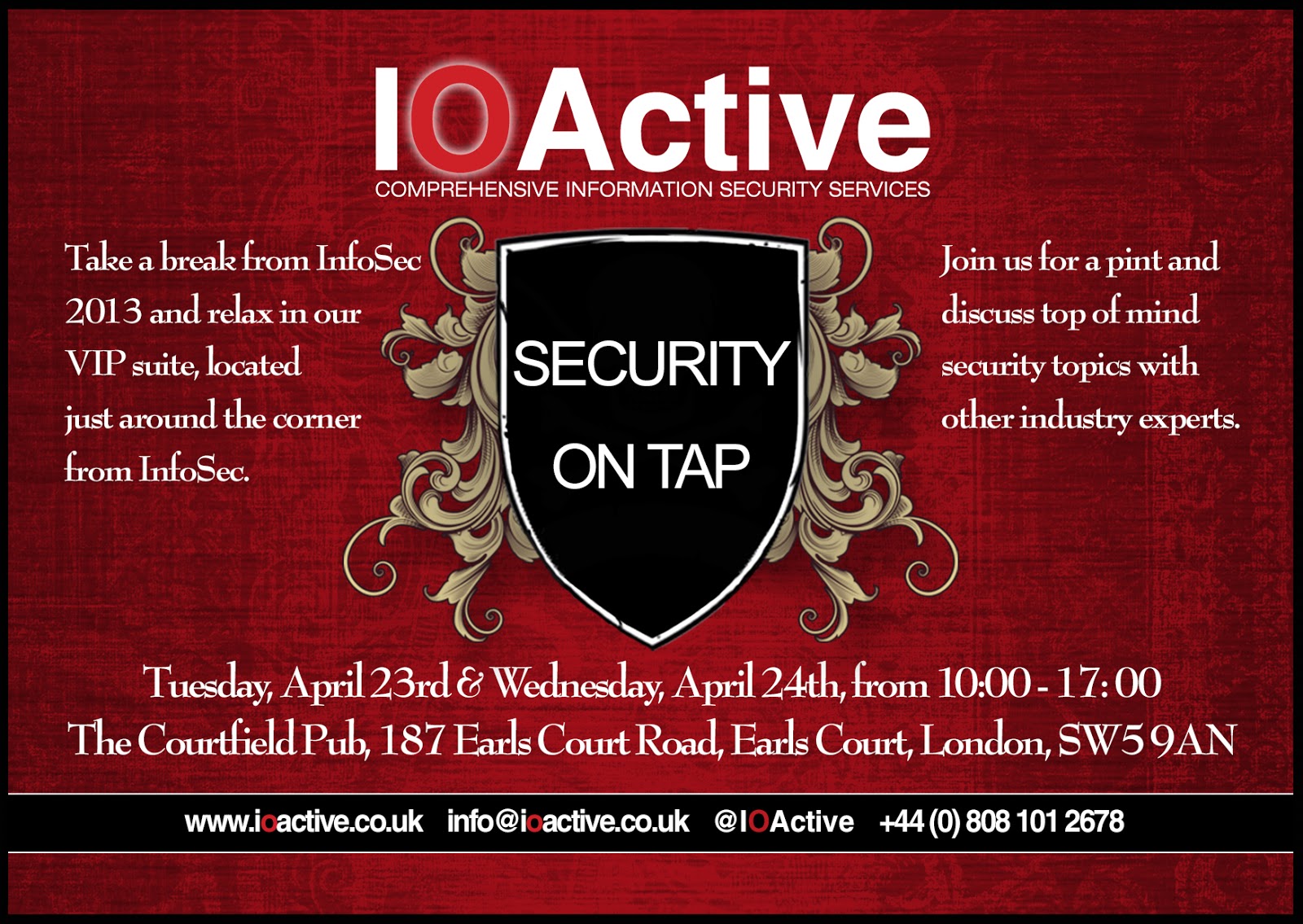 — Gunter Ollmann, CTO IOActive